Channeling the Style of Your Home into Your Garden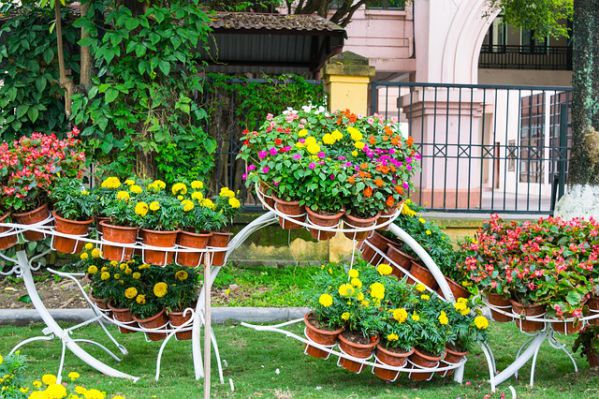 Gardens are an important part of our homes as they allow us to escape into nature, to feel the fresh air, relax and to soak up the sun rays – or soak in the rain. A garden is a place to reflect, contemplate and heal spiritually, enjoying the peace and tranquility of nature in between neighbors mowing their lawns. To many of us in England, entertaining outdoors is necessary, despite the English weather. We endure it anyhow and take any smidgeon of sunlight emerging behind the clouds as a signal to pop open the beer cans and light the BBQ fire. Summer Barbeques, parties, getting together or simply eating your meals outside is enough reason to create a pleasurable garden and this is why looking after and furnishing your garden is important.
Imagine yourself in your living room minus all of the furnishings or instead, old and worn furniture pieces; you probably wouldn't want to spend much time in there. The same applies to your garden, particularly if you like the outdoors and spend a lot of time outside in the summer or generally. Creating a stylish garden will encourage you to engage with the outdoors and enjoy your outside space more. After all, we can't get enough vitamin D.
Decorating your garden with plants is only the first step in creating a harmonious and stylish area, and furniture is a necessary ingredient. There are a range of different furniture designs available to suit your garden style and you may even want to give it a theme to make it all the more stylish and full of character. For example, Japanese Zen gardens have become very popular and are a modern favorite in garden design. Some other designs include Mediterranean, Tuscan, Traditional English country, French etc. Picking a theme allows you to stay within the same style to avoid mismatched items, allowing you to stick with certain styles, colors and materials. This gives your garden the most flair and making you and your guests feel as though you are somewhere far away in your exotic, unique and luxury space. Who wants to be indoors now?
Choosing your Style
When looking around for garden furniture, you will find a number of different types and styles of garden furniture that are available in a range of materials.
For a more traditional and classic look, there are many different types of wooden furniture that are of high quality and well-made to look simple but effective. Rattan is also a great choice of furniture that is extremely charming. Rattan is made from superior quality resin and comes in two different types: Flat weave is a more cost-friendly and gives a more modern look whereas round weave is more traditional and perhaps a little more attractive and luxurious. Metal too has the potential to be attractive and luxurious and is conveniently simple to maintain. For a more modern appearance, darker colored furniture such as black is more appropriate, or even sheer white – however white furniture, particularly fabric coated ones can be difficult to clean, but is nevertheless just as beautiful.
Picking up the Pieces
Garden furniture doesn't have to be dull, however many flock towards the standard green or white plastic chair and table sets or the regular old wooden pieces. Not that there is anything wrong with this, but your garden should be a place you actively want to return to due to its beauty and charm. Furthermore, many shy away from the more interesting types of garden furniture as it is often found to be pricey or overindulgent. However, realistically you do not have to spend that much money and stylish garden furniture can be picked up at a decent enough price.
You first need to establish what type of furniture you are looking for. Are you looking for an outside dining set, chairs, a coffee table, a bench, sofas or something else? Are you buying according to a theme? You also need to think about who will be using the furniture and when.
Chairs and sofas are great for if you host occasions or get together or even to create an outside relaxation area. You may be more interested in purchasing an outside dining table, allowing you and your family to enjoy the evening, or perhaps a coffee table for reading your book with a cup of tea or coffee. There are many different arrangements to choose from, it's simply about finding the right one to suit you.
Would you like to receive similar articles by email?