Guide to Period Architectural Styles in Australia
Since its founding in 1788, Australia has gone on to amass a rich cache of colonial architecture. Many of its metropolises still bear the imprint of its forebears. Going out from the city centre, you will realise that the suburbs progressively showcase different periods in Australia's history. This is why it's not unusual to find a Federation manor near the beach or a Gothic Revival abode further inland. The following are some of the most common heritage architectural styles you will encounter in the Land Down Under.
Colonial
As the Britons were just beginning to settle Australia, they took to building single-storey dwellings girded by spacious verandas. These houses usually contained two or four rooms surrounding a hallway. A common feature in these early domiciles was the double-hung window, often amounting to a dozen panes. Also, the front door may have had a fanlight window above. Roofs were made of timber shingles, slate, or imported corrugated iron sheeting.
Victorian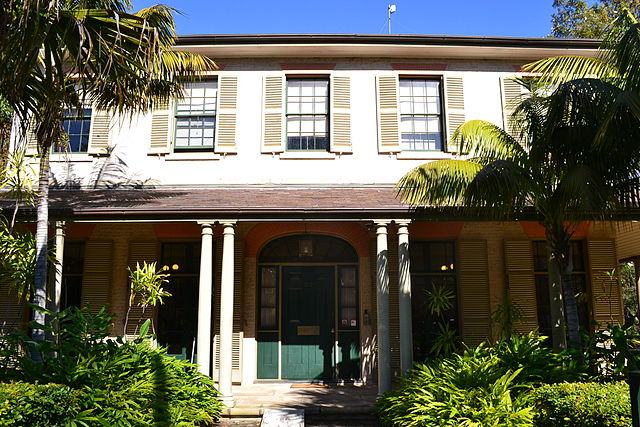 As Queen Victoria ran through the early years of her legendary reign, the verandas became smaller or were gone outright. Roofs were now steeply pitched and parapets concealed their edges. If the house had a second storey, it may feature French doors with an iron balustrade. Façade walls may be rendered in cement. Windows may still be double-hung but some were now side-opening casements.
By the 1860s, Victorian houses began to show more ornamentation. Houses would sport elaborate filigrees, which were screens of wrought or cast iron. Decorative, multicoloured brickwork was considered the height of style. Stucco was used more on the façade, and lace balustrades helped direct attention to it. Ornamental brackets could be found under eaves. Verandas were more ubiquitous than ever, with posts made of timber. Meanwhile, timber cottages sported square-edged weatherboards made to look like stonework. Victorian houses were especially remarkable in Queensland, where they were built on stilts.
As the Victorian era drew to a close, Australians favoured timber fretwork increasingly. Influences from Italy and France also bore upon the houses of the era, so it was not unusual to see houses bedizened in tall parapets and arches. Australian architects also pined for all things Old English, building Tudor-style houses.
All in all, the Victorian architecture was a melange of architectural styles: Gothic Revival, Regency, Italianate, Free Gothic, Classical, and Second Empire, to name a few. There were also distinctly British architectural movements like Georgian and Rustic Gothic.
Federation
When Australians finally became Australians, having entered the age of federalism at the turn of the century, their architectural sentiments followed suit. Suddenly there were nationalistic motifs galore, such as kangaroos and kookaburras, adorning the leadlight windows and floor tilings of houses. The verandas had decorative timber handrails and turned timber pillars. There was also more than one gable on the roof, which was often made of terracotta tiles.
Queen Anne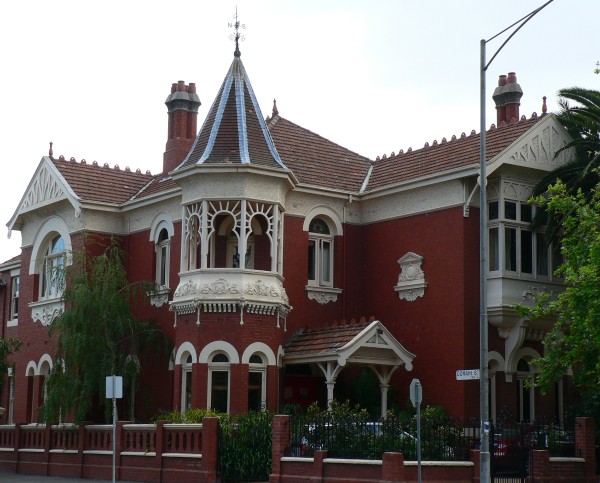 Named after the 18th century sovereign, Queen Anne style was notable for its elaborate roof form. It was not unusual to spot gargoyles and dragons on the roof, which became almost pyramid-like in pitch. Turrets and towers often jutted from the house. Art Nouveau designs replaced the federalist motifs during this period. The Queen Anne style of houses in Australia should not be confused with that in England, however.
Arts & Crafts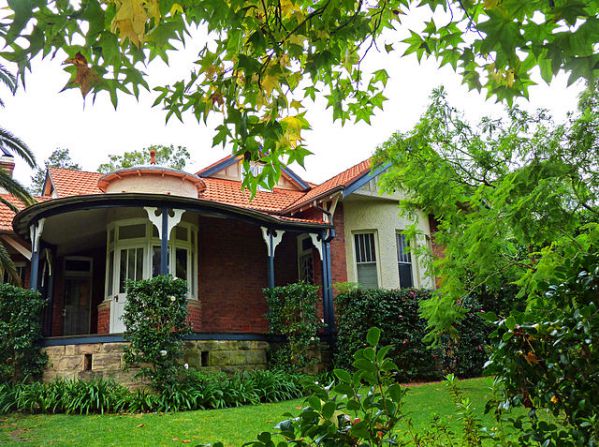 As the name suggests, this housing style emerged out of a need to revert to simpler, more rustic times. The push was toward the artisanal and the handmade. Consequently, rough-cast walls characterise this architectural style, as did faceted bay windows, tall chimneys, and steeply pitched roofs.
Bungalow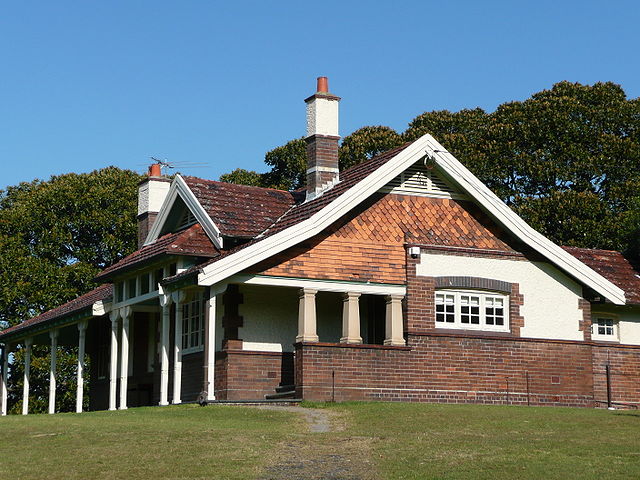 Compelled by wartime austerity, architects took inspiration from bungalow housing in California, which was a similar clime to Australia. These California-style bungalows were single-storey, with a low-pitched roof fronted by two or three asymmetrical gables. The ceilings were no longer as ornamented as in previous decades or were completely devoid of patterns. Large pillars supported the verandas. Beams may be partially exposed. Square, small casement or double-hung windows face the curb.
Inter-war
From bungalows, the houses in Australia progressed to an assortment of styles, ranging from Ashgrovian and Spanish Mission to Bauhaus, in the years between the world wars. This was a time when Style Moderne, a latter-day iteration of the Art Deco style, really gained traction. In any case, the houses tend to have basic floor plans.
Check your heritage
If any of these sounds familiar, you may have a period home in your hands. Before renovating your house, it is imperative to check first if it was built in another era. Otherwise, you could face consequences from a heritage overlay, a planning scheme put in place by local councils to protect period structures from getting demolished or dramatically altered. Contact your friendly heritage adviser for details on how to lawfully change your house.
Would you like to receive similar articles by email?